What do you need to start scale modelling? I decided to make a little blog of what I found were necessities as a beginner and what were the advanced tools & accessories you need to take it further.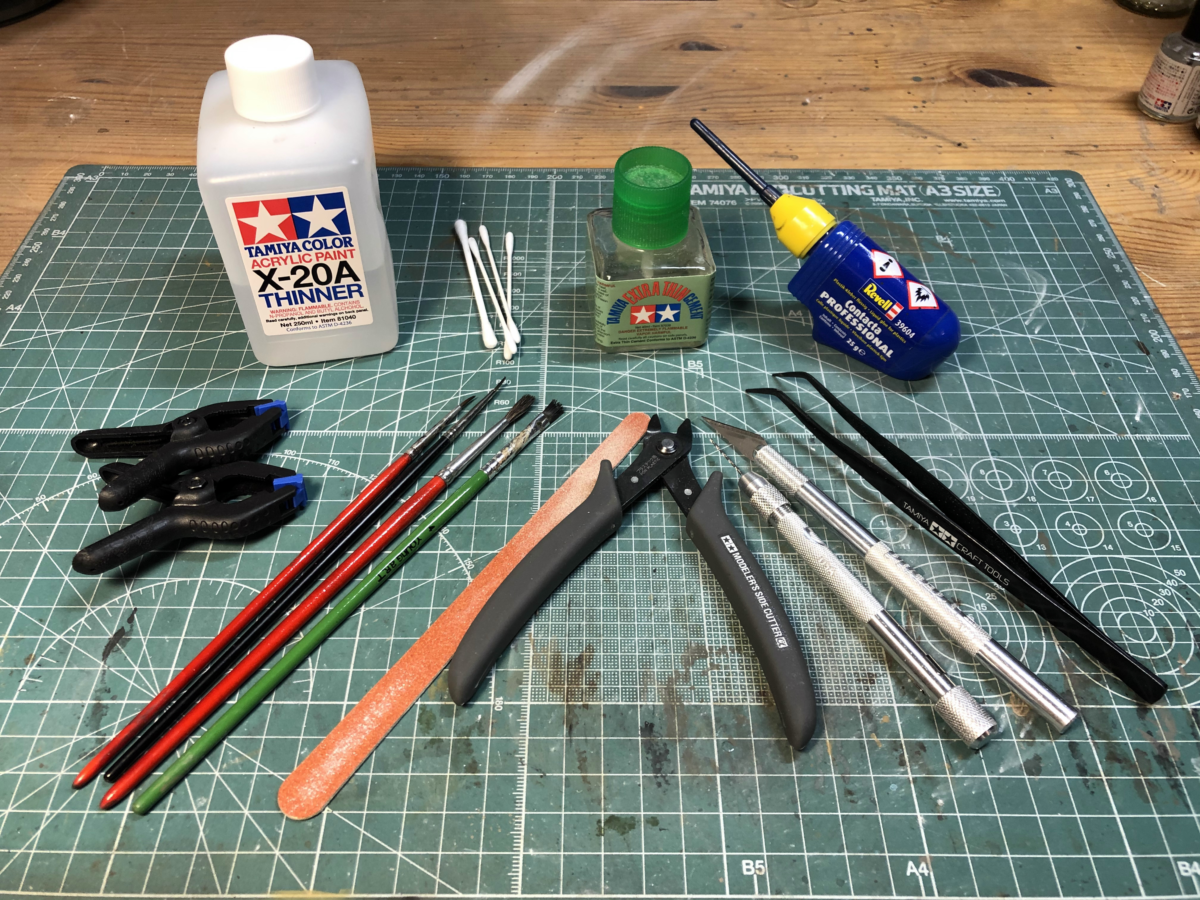 The starter setup: Cutting mat A3 size (24 €), thinner (10 €), cotton swabs (stolen from the Mrs.), extra thin cement (6 €), cement (6 €), clamp set (5 €) , some brushes (10 €), sanding stick (stolen from the Mrs.), side cutters (20 €), pin vise with 12 drills (24 €), knife (5 €), tweezers (14 €). Total: 124 €.
These are the things I find mandatory to be able to do proper work. Of course some are even more mandatory like cement but you get the idea. If I had to pick just one item you don't want to miss it would be the quality side cutters. I got mine only after a few kits and I was blown away how much easier they make it. You also want to remember that most of these items are a one-time purchase and will serve you for a long time.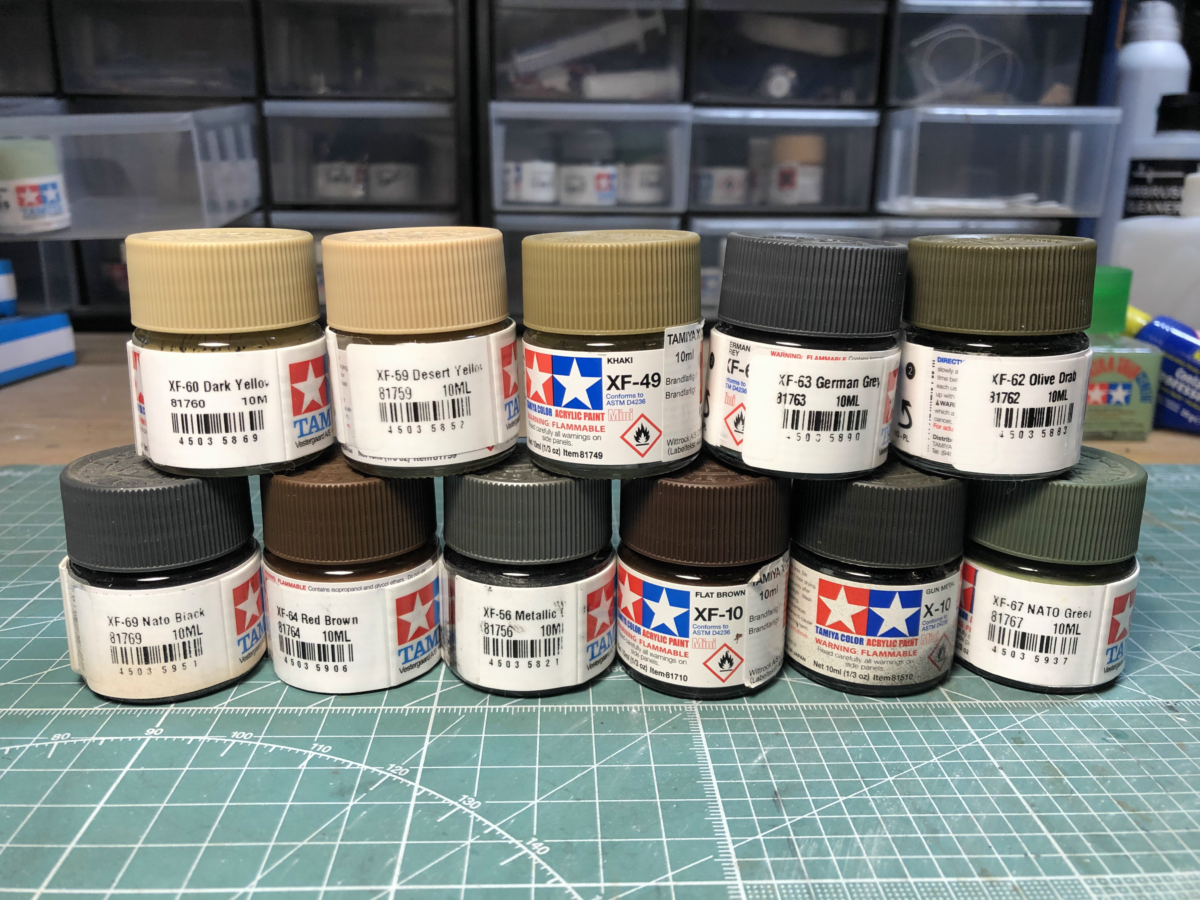 The paints you need are pretty much up to the kit you're painting. I prefer Tamiya acrylic paints but it's a matter of personal preference. Some prefer Vallejo paints, some Mr. Color and so on. These Tamiya Acrylic Mini paints cost typically 2-3 € each. Regardless of what you're building, you often need black, white, metallic grey and some others. Soviet tanks in general and American WWII tanks are typically olive green, WWII German tanks most often have German grey or dark yellow base color and so on.
I usually buy these paints in pairs so that I thin one down for airbrush use and use one as it is with brush. Thinning these Tamiya paints down for airbrush is super easy. Just open the bottle, fill the empty space with Tamiya thinner and shake well.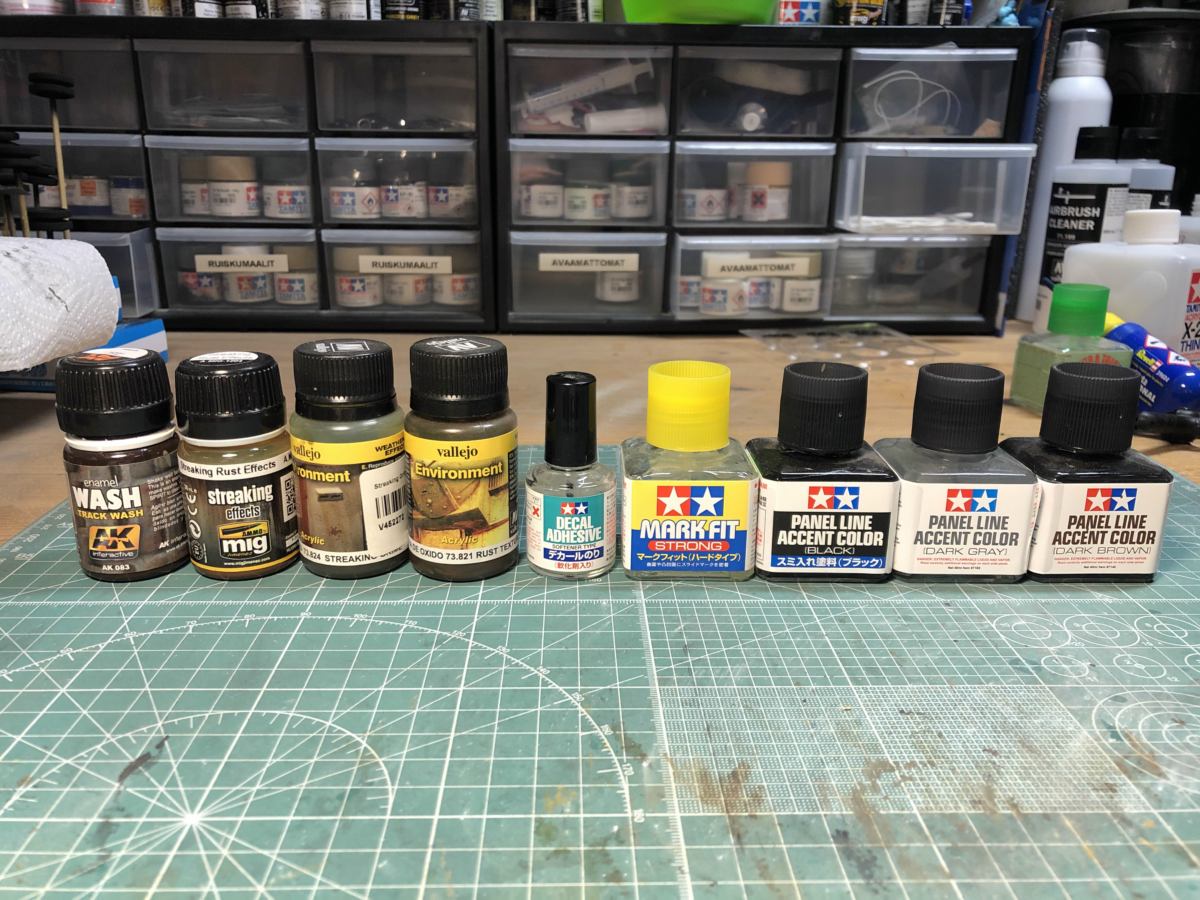 When it comes to effects and weathering only the sky is the limit. I typically use Tamiya Mark Fit (5 €) and Decal Adhesive (7 €) to fix decals. Panel liners (7 €) are an easy way to make panel lines, rivets and bolts more visible. Most of my track washes, streaking grimes and rust washes are either from Ammo by MiG, Vallejo or AK interactive. Most of them are roughly 5 € each.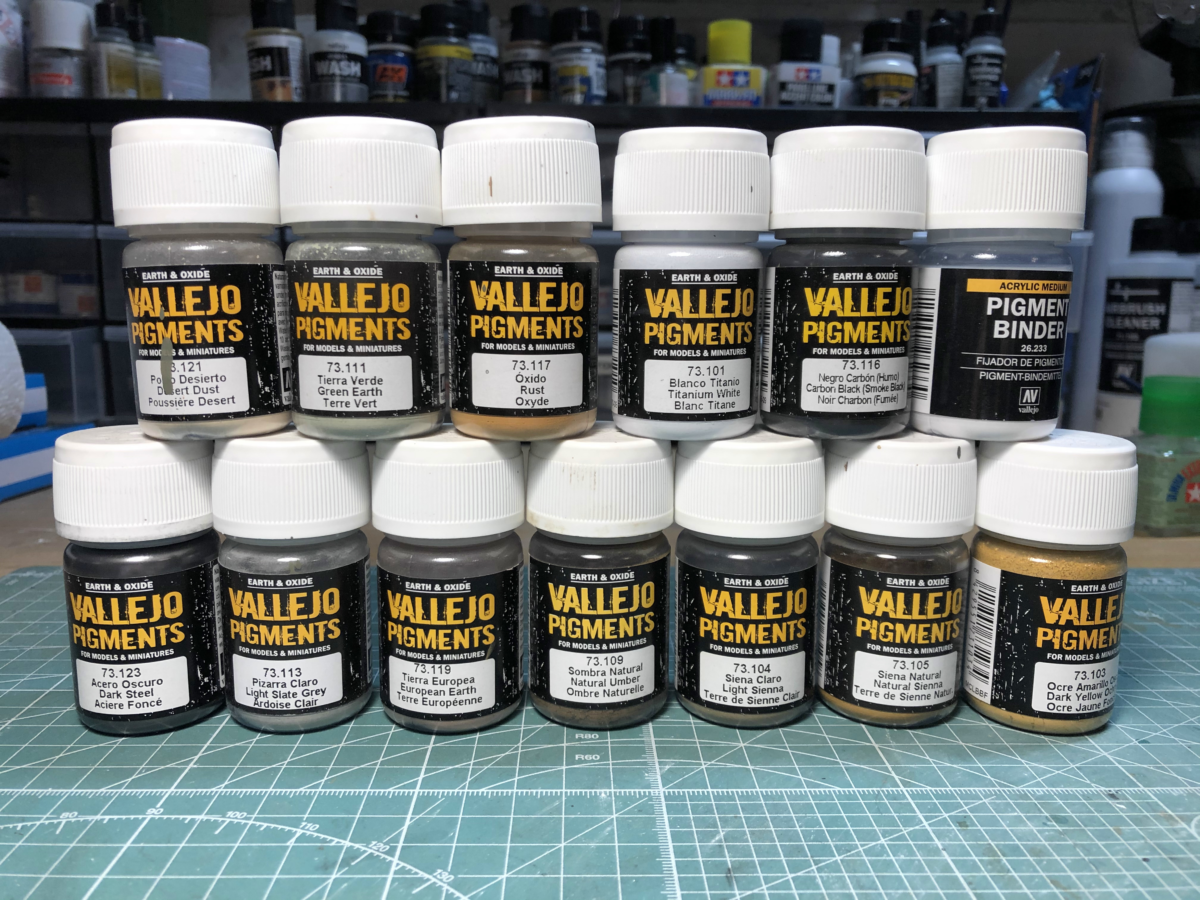 Since I've only built tanks after I resumed the hobby, I've also needed pigments to add that dirty look. These Vallejo pigments cost 4-5 € each.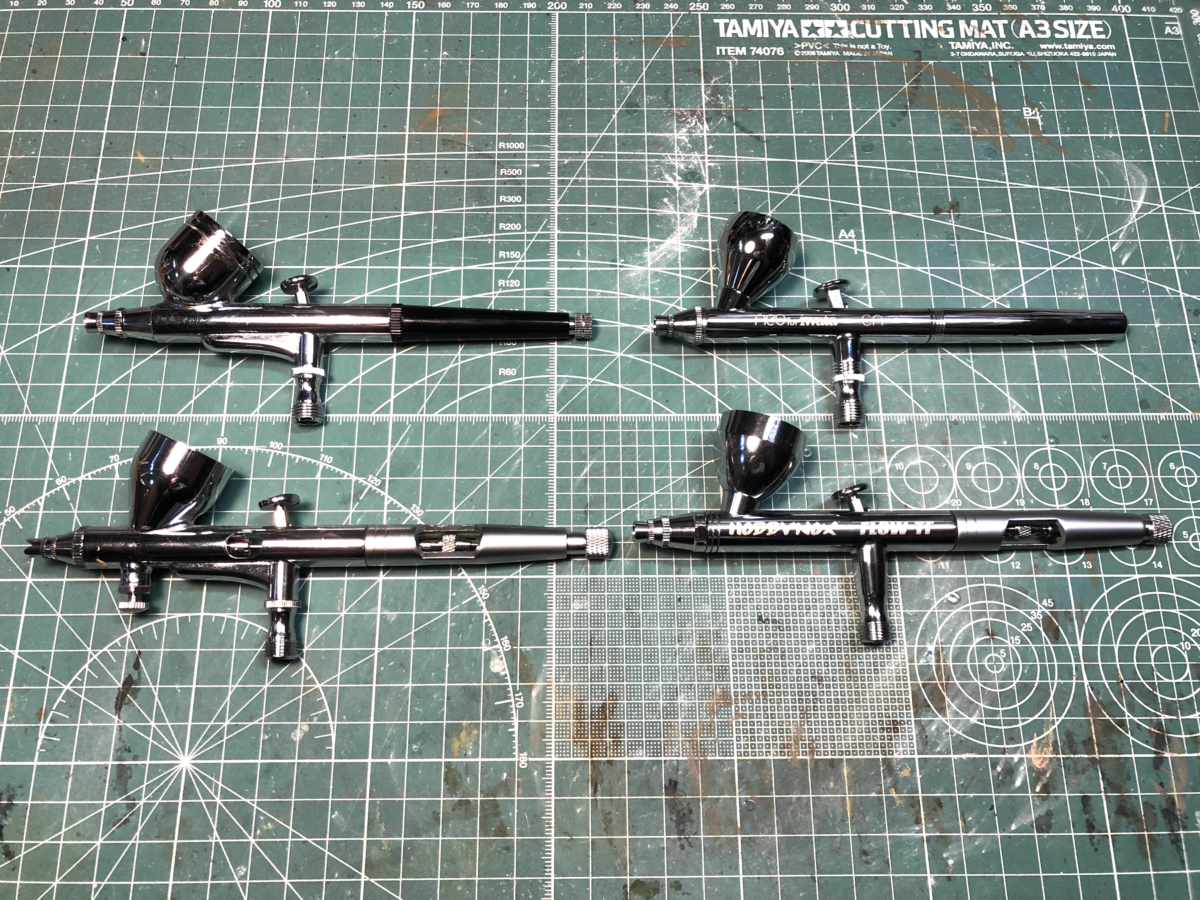 When you want to start using the airbrush you need a compressor. You can find some beginner compressors for roughly 150 €. I started with cheap Biltema clone airbrushes (0.5mm top left and 0.3mm bottom left), which both cost 30 €. There are plenty of cheap clone airbrushes available.
I also have the Hobbyknox Flow TF airbush (bottom right) with 0.3 / 0.5 / 0.8 mm nozzle / needle sets. I haven't used it much since changing the parts is always an annoying task. It was 75 € and not the best investment I've made.
My absolute favorite is the Iwata NEO HP-CN 0.35 mm (top right). It's a simple but very accurate airbrush for most situations. For 105 € it was one the best tool investments I've made.
The finally what do you want to build? Tanks and airplanes are the obvious choice but there are also cars, motorcycles, ships, figures and so on.
So far I've built Tamiya, Trumpeter and Amusing Hobby kits. I think Tamiya kits are superior in quality which in this context means fit and no need to clean the excess sprue from every single part. There are many older 1/35 Tamiya kits for 15-20 € out there. The older kits may lack the finest detail but they are perfect kits to start the hobby and start building your skills. Newer and even better quality Tamiya kits start from 30 € and the scale goes all the way up to over 100 €.
As a kid I used to build 1/72 airplanes. There are still dozens of perfect starter kits from various brands for 10-15 €.
Starting or resuming the scale model hobby is fairly easy and not as expensive as one might expect. If you get the proper tools and accessories right at the start you will save money and your nerves later. There aren't that many must tools. Mostly it's all about the interest, patience and a quiet place to enjoy the hobby. Today there are excellent tutorials on YouTube of just about everything you need to know. It wasn't like that back in the early 1990s when I first started.
Oh, I almost forgot the most important thing: whenever possible, support your local scale model shops and dealers.
Cheers!